It's Simple But It's Not Easy.
CommonMind brings a practiced, disciplined approach to customer engagements, from initial knowledge sharing and subject matter discussions to ongoing, proactive program refinement.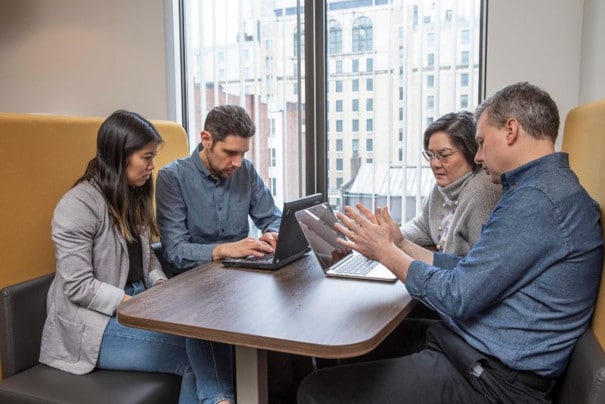 Let's set a strong foundation with:
An organized, detailed discovery process during which we will work closely with you and your team to understand your organization, your products and services, your customers, your current marketing approach, your goals, and your budget. This will happen over the course of several days, either in person or via video conference calls.
An extremely specific Digital Marketing Plan that's mapped directly to your goals, informed by CommonMind's experience. We'll prioritize the activities that will provide the greatest return on your marketing investment, while reflecting your brand, your audiences, and your desired outcomes.
A fast, efficient ramp-up process, that's been developed and refined over more than 18 years. We'll work with you to ensure your digital assets are ready for action, from technical website consultation to content development. We'll turn learning into action, activating the appropriate media accounts on your behalf, creating keywords and content, and setting all account parameters for the strongest start possible.
Active, ongoing program management and optimization. We believe that strategy is an ongoing process, rather than something that happens once at the beginning of an engagement. Your CommonMind team will continually monitor all aspects of your digital marketing, while sharing learning, providing recommendations, and constantly fine tuning campaigns based on concrete performance data.
Attentive, responsive account management. We consider our team to be an extension of your team. When you partner with CommonMind, your goals become our goals, and we will work as hard as you do to achieve them. Your core CommonMind team will be in regular communication about your overall digital marketing strategy and specific opportunities to increase its effectiveness.
Our Web Business Increased Over 40%
After we hired CommonMind to consult on AdWords & SEO, our Web business increased over 40% and Google organic positions improved dramatically. Thanks to Will & CommonMind, more than half of our new customers now come from our website.
Dave Kram
Tanner Bolt & Nut Corporation