Kicksta is a technology service that helps brands and influencers grow their following on Instagram.
Challenge
Kicksta hired CommonMind to improve its organic search engine rankings after suffering a setback related to rebranding: revenue from organic traffic had dropped significantly after the company changed its domain name.
In the eyes of Google, much of Kicksta's authority remained with its old domain name and internal efforts weren't sufficient to increase rankings for competitive terms. Meanwhile, the competition was getting stronger.
Solution
CommonMind conducted an SEO audit, comparing the strength of Kicksta's old domain name to its new domain name, as well as to its competitors. We identified backlinks that were lost in the process of transitioning from one domain to another. We also found new linking opportunities, and issues related to how pages were redirected from the old domain to the new one.
Based on CommonMind's analysis and consultation with the client, we created a short list of the most important keywords for driving traffic and revenue. Content and linking strategies to improve rankings for those terms were then developed.
Client collaboration
We procured new links for Kicksta while simultaneously working closely with the client's web team to fix technical issues, including issues related to mobile page speed. We provided the web team with detailed instructions on how to speed up the website. A new set of "rewrite rules" was also produced that they could apply to their server in order to fix redirect errors.
Kicksta's internal content team was also involved. We guided the content development process to ensure Kicksta's content surpassed the quality and relevancy of competitors for our short list of targeted keywords.
Results
Within the first month of implementing CommonMind's optimizations, the negative trends started to reverse. Rankings began improving and ecommerce transactions increased by nearly 50% in that first month of activity.
As shown in the chart below, we continued to achieve results as the project progressed. The Google ranking for Kicksta's top keyword rose from a rank of 91 before the project started to the 5th position in Google six months later.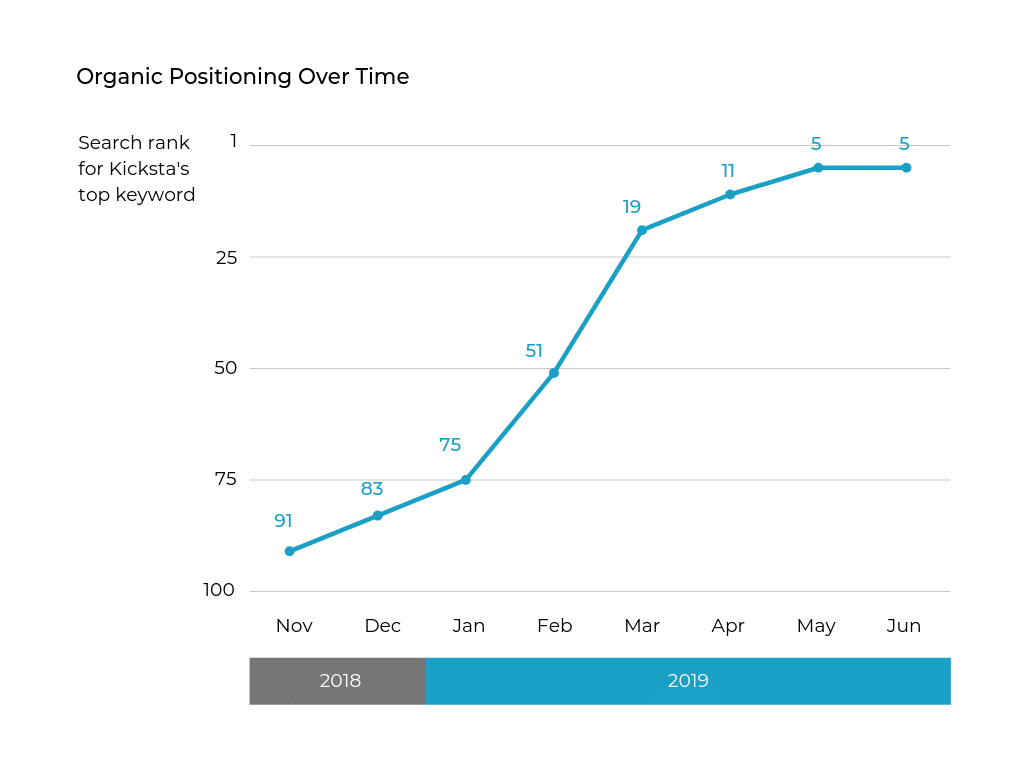 Some of these gains were attributable to an improved link portfolio. Over the course of 7 months, the number of domains linking to Kicksta increased by 82%. Credit also goes to Kicksta's web and content team, which respectively implemented our technical recommendations and content guidelines.
Overall, CommonMind's link building, content strategy, and technical updates combined to improve rankings for Kicksta.co's six highest priority and most competitive keywords, none of which ranked on the first five pages of Google prior to SEO implementation. Three of Kicksta.com's top six terms were on page one within six months, including a #1 ranking.
As part of our technical updates, our emphasis on the importance of mobile performance also paid off. We helped Kicksta improve their mobile page speed by 74% during the first three months of the project. This made it easier to achieve ranking gains. Plus, the faster website made for a better user experience (UX).
The end result of our initial 8-month engagement with Kicksta was a 493% increase in the estimated value of website organic traffic, and a 2.5X increase in revenue attributable to organic traffic.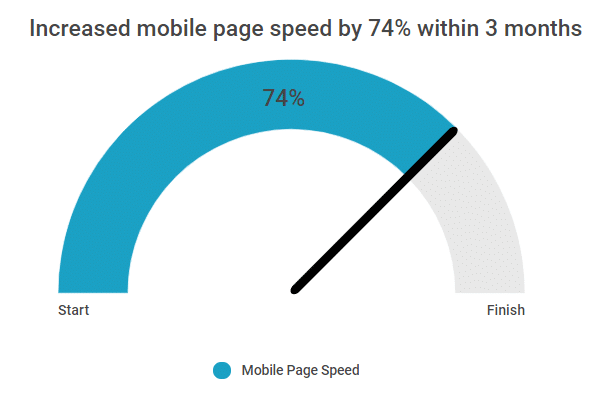 CommonMind improved user experience (UX) by increasing mobile page speed by a rate of 74% within three months. In the first month eCommerce transactions increased 47% and within seven months achieved an 82% increase in referring domains.